This vessel is what every port operator, harbour authority or marina can't do without!
The 9 metre multi-purpose Envirocat Harbour is constructed in marine grade aluminium and is capable of carrying out the following duties:
Collection of plastic from the water's surface
Removal of oil from the water's surface
General workboat duties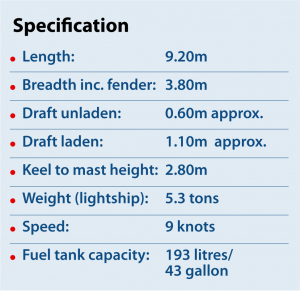 The Envirocat Harbour weighs 5.5 tonnes and is fully road transportable. The pollution control equipment is easily operated can store up to 4 tonnes of waste oil, this can then be pumped ashore into a reception facility.
In addition to this, the vessel can collect floating debris from the water's surface, which can then be segregated onboard and lifted ashore with the vessels hydraulic crane. The vessel is safe and easy to operate and requires minimum crew. The Envirocat Harbour is successfully working for port operators in both the UK and overseas.
Ideal for waste plastic control.
The 7 metre Envirocat Marina is constructed in marine grade aluminium and is ideal for collecting floating debris on the water's surface. The Envirocat Marina can be used in enclosed waters, is fully road transportable and simple to operate. The scoop located at the front of the vessel makes for easy removal of any plastic on the water's surface.
The waste debris can be stored aboard in the waste cage which can then be easily lifted ashore upon completion of the project. MMS can give you a fixed price including delivery and on-site training anywhere worldwide.